3 Airline Stocks to Watch in 2H as Air-Travel Scene Brightens
The coronavirus pandemic, which was aptly described in April 2020 as the "the worst financial crisis in aviation history" by United Airlines' UAL former CEO Oscar Munoz, caused an untold misery to airlines last year. With air-travel demand touching a nadir, most airline companies incurred losses in each of the four quarters of 2020. Reflecting the hardships, the Zacks Airline industry declined 26.4% last year.
Image Source: Zacks Investment Research
However, the industry participants' fortunes changed with the advent of 2021. Wide-spread vaccinations instilled confidence in people to fly once again without the fear of contracting the infection from a fellow-traveler. As a result of the uptick in air-travel demand (particularly for leisure), carriers including Delta Air Lines DAL, Spirit Airlines SAVE and JetBlue Airways JBLU announced plans to add/resume operations on several routes to meet the demand surge. Also, European carrier Ryanair Holdings RYAAY is seeing a swell in passenger count despite the coronavirus-led travel restrictions, per a  Reuters report.
Moreover, in the United States, the Transportation Security Administration screened more than two million people in not less than 10 days during June (considering the data until Jun 29). In fact, TSA screened 2,167,380 people last Sunday i.e. Jun 27, 2021. This was the highest reading taken since Mar 5, 2020. Betterment of the scenario is well-reflected in the Zacks Airline industry's growth of 6.9% year to date.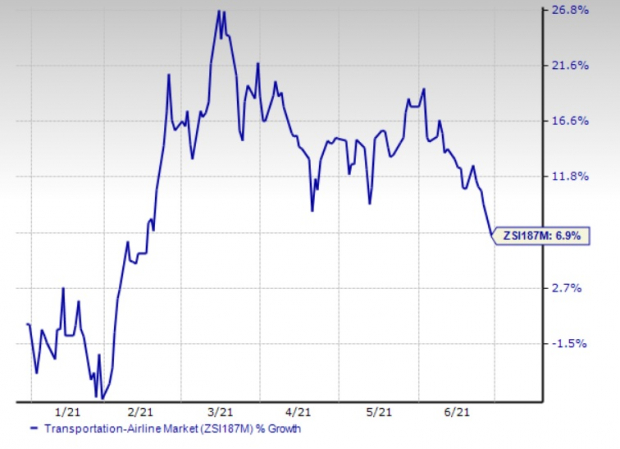 Image Source: Zacks Investment Research
Air Traffic Likely to Continue Northward Movement in 2H
While the weakness pertaining to business travel is unlikely to disappear soon, overall air-travel demand is likely to continue improving in the second half of 2021, driven by leisure travel. The fact that the expectation of a recovery is not only restricted to the United States is clear from the fact the European carrier Ryanair's recent addition of 200,000 seats on flights from the United Kingdom to Malta and the Balearics (Ibiza and Palma) for July, August and September.
This follows the U.K. government's decision to include these islands on the green list for travel that allows flyers to visit these sites without having to quarantine (provided they are declared COVID negative) themselves on their return. The relaxation is effective today.
Even in Latin America, air-travel demand is northbound on the back of ramped-up vaccination programs. This is evident from the fact that consolidated traffic at Azul AZUL improved 12.4% in May from the April tally. At another Latin American carrier Gol Linhas GOL, May traffic surged 65% month over month.
Riding on such an improved scenario, Gol's outlook for the second half of 2021 seems rosy. The carrier, currently carrying a Zacks Rank #3 (Hold), expects net operating revenues for the latter half to be approximately R$6 billion, much higher than the second-quarter estimate of roughly R$1 billion.
You can see  the complete list of today's Zacks #1 Rank (Strong Buy) stocks here.
Moreover, alike the first half of the year, the focus on the cargo segment should continue to serve airlines well in the latter half of the year too.
The above write-up clearly suggests that things are on the mend as far as airlines are concerned and the second half of the year should see this momentum to continue on the back of improvements witnessed in first half of the year. We therefore highlighted three airline stocks, each presently carrying a Zacks Rank of 3, that investors should keep tabs on.
Our Choices
United Airlines: In response to a better air-travel demand, United Airlines plans to add in excess of 400 daily flights to its July schedule. The airline expects to operate 80% of its pre-pandemic U.S. schedule in the month as summer travel bookings soar 214% from the 2020 levels. The company's cost-control initiatives are supporting its bottom line. Owing to an improved air-travel demand scenario, the Zacks Consensus Estimate for 2021 is currently pegged at a loss of $14.15 per share, narrower than the loss of $14.26 estimated for the stock 60 days ago.
Southwest Airlines LUV: Restoration of leisure-travel demand is a huge plus for this Dallas-based carrier. To meet the anticipated demand upturn in the latter half of the year, Southwest Airlines recently announced a pay hike for its hourly employees. The impending increment, which will be effective Aug 1, is aimed at retaining its existing employees as well as attracting new personnel.
Owing to bloated bookings, aided by an upswing in air-travel demand, the Zacks Consensus Estimate for 2021 is currently pegged at a loss of $1.29 per share, narrower than the loss of $1.47 estimated for the stock 60 days ago.
Alaska Air Group ALK: With air-travel demand rising, Alaska Airlines is constantly looking to add routes and widen its network to meet the anticipated demand swell. This upbeat scenario led to a healthy cash flow from the company's operations.
Boosted by higher bookings, attributable to a spike in air-travel demand, the Zacks Consensus Estimate for 2021 currently stands at a loss of $2.50 per share, narrower than the loss of $2.86 expected for the stock in the past 60 days.
Notably, shares of United Airlines, Southwest Airlines and Alaska Air have rallied 20.5%, 13.5% and 15.6%, respectively, so far this year. Take a look —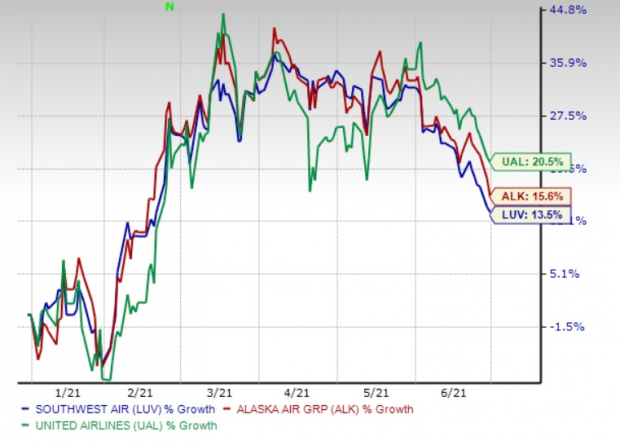 Image Source: Zacks Investment Research
Bitcoin, Like the Internet Itself, Could Change Everything
Blockchain and cryptocurrency has sparked one of the most exciting discussion topics of a generation. Some call it the "Internet of Money" and predict it could change the way money works forever. If true, it could do to banks what Netflix did to Blockbuster and Amazon did to Sears. Experts agree we're still in the early stages of this technology, and as it grows, it will create several investing opportunities.
Zacks' has just revealed 3 companies that can help investors capitalize on the explosive profit potential of Bitcoin and the other cryptocurrencies with significantly less volatility than buying them directly.
See 3 crypto-related stocks now >>
Ryanair Holdings PLC (RYAAY): Free Stock Analysis Report
Delta Air Lines, Inc. (DAL): Free Stock Analysis Report
United Airlines Holdings Inc (UAL): Free Stock Analysis Report
Southwest Airlines Co. (LUV): Free Stock Analysis Report
JetBlue Airways Corporation (JBLU): Free Stock Analysis Report
Gol Linhas Aereas Inteligentes S.A. (GOL): Free Stock Analysis Report
Alaska Air Group, Inc. (ALK): Free Stock Analysis Report
Spirit Airlines, Inc. (SAVE): Free Stock Analysis Report
AZUL SA (AZUL): Free Stock Analysis Report
To read this article on Zacks.com click here.
The views and opinions expressed herein are the views and opinions of the author and do not necessarily reflect those of Nasdaq, Inc.